Black History Month: Dr. Rita Pierson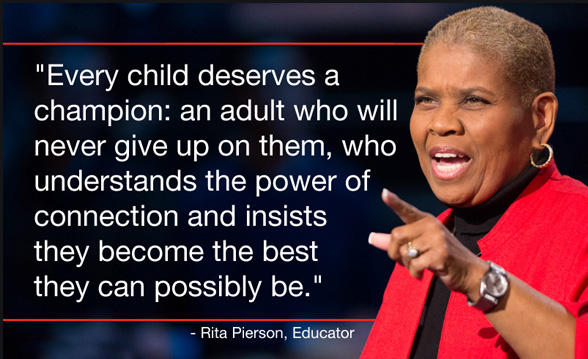 Dr. Rita Pierson
This week, Imagine honors the pioneering work of Dr. Rita Pierson (1951-2013). A child of educators, Dr. Pierson received her undergraduate degree from Elmhurst College in Chicago and her Masters and Doctorate of Education from Texas Southern University. Dr. Pierson was a renowned public speaker and anti-poverty advocate who understood and insisted that teachers build stronger relationships with children.
In addition to teaching courses in elementary, middle, and high school levels, Dr. Pierson served in numerous roles in educational settings including school administration, guidance counseling, assistant principal, director. She was widely sought after for professional and development training and was also a licensed professional counselor.
Dr. Pierson is most known for her inspirational TED Talk, Every Kid Needs a Champion, which is highly praised by educators across the globe. Her other published works include Teaching on Your Feet: 10 Lessons on Being a Master Teacher and Rita's Stories.
VIDEOS THAT MAY INTEREST YOU:
• Rita Pierson: My Mamma Said
• Rita Pierson: What about Jack?