Fun Ways to Make Ice Cream for National Ice Cream Month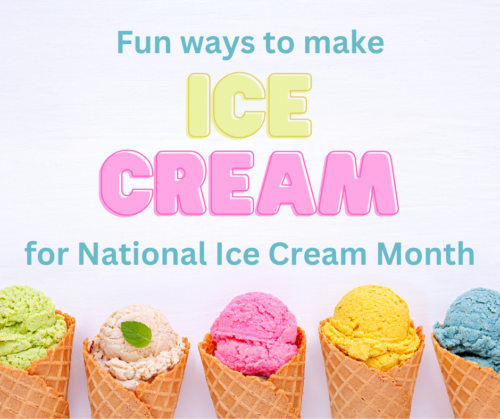 July just might be the sweetest time of year. July 16 is National Ice Cream Day — but the whole month is a celebration of delicious frozen desserts, too!
In 1984, President Ronald Reagan declared July to be
National Ice Cream Month
, and the third Sunday in the month National Ice Cream Day. 
You could honor the holiday by going to the store and getting a big tub of vanilla or your favorite pint of caramel brownie fudge chunk. But why not try a fun and different way of enjoying ice cream this year?
These quirky methods are especially great to try out with kids of all ages.
Ice Cream in a Bag: This is the simplest method, perfect for passing around a preschool classroom. Keep the flavor simple — this recipe sticks to vanilla — and have kids bring toppings to share. It works for dairy free options, too!
Ice Cream in a Ball: The company Yaylabs sells a few varieties of ice cream-making ball, including this playground-style one. Take the kids out for a quick game of kickball, followed by dessert.
Ice Cream the Old-Fashioned Way: Check out your grandma's attic, keep an eye on your neighborhood yard sales or head online to find an old-fashioned hand-cranked ice cream maker. Kids can take turns cranking the handle. 
Ice Cream By Bigfoot: You'll have to head to eBay or other online resale shops to find this perfectly Pacific Northwest-themed ice cream maker — pedal-powered with Bigfoot feet!
After you've squished, kicked, churned, or pedaled your way to a fabulous treat, find a new recipe and try again! July may be National Ice Cream Month, but the average American eats about 4 gallons of ice cream annually. That means we celebrate all year long.