Imagine Staff Spotlight: Pauli Owen
Meet Pauli, one of Imagine's Interim Substitute Pool Directors!
Pauli is a rock star who has experience in almost every program at Imagine. As a child care provider herself, Pauli first became involved with Imagine as a licensed provider. She later shared her expertise as an Imagine U mentor, encouraging her interns to become licensed themselves. After almost two years of driving outreach and engagement for the Substitute Pool, Pauli and her colleague, Christopher DeRuvo, recently stepped up to the plate as Interim Directors for the program.
Pauli has also helped Imagine's efforts to support Washington's FFN (Family, Friend, and Neighbor) providers access training and resources. She says she values the overall culture of Imagine, calling it "truly community based" and striving to meet the evolving needs of providers, thoughtfully welcoming all feedback. 
"It's such a great team of very creative and supportive people," says Pauli. "Everyone is busy, but no matter their workload, everyone is always willing to lend support."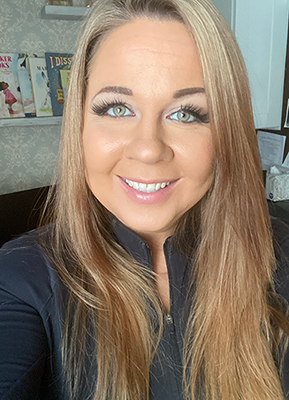 Homebase for Pauli and her family is Whatcom County where she is also active with SEIU 925. Living in such a beautiful area, it's no surprise that Pauli loves spending time outdoors with her husband, their three sons (two teenagers and a tween), and the family dog. They enjoy hiking and camping in the mountains, in the desert, and along the coast.
Pauli is passionate about the work that Imagine does uplifting child care providers, and this dedication shines through in every aspect of her work with Imagine. To quote her coworkers, "We don't know what we would do without her!"
Thanks for all your hard work, Pauli!